European Chess Rules
Basic Rules | Clarifications (Areas) | Gameplay Suggestions and Variants | Back to Index
---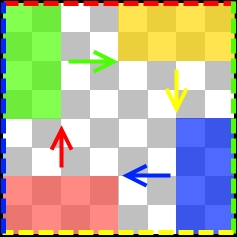 Players and Setup
European Chess is played with four players on one board.
This game can be played 2v2 or free-for-all. Some other variations exist (for instance, Bughouse, Capture the Flag, and King of the Hill) and are discussed on the Gameplay Suggestions and Variants page.
Game setup is shown on the diagram at right. Note that, while most nations start out with eight pieces, some may start with more or less, or with pieces in a different arrangement.
The arrows in the diagram at right show the direction in which each player's pawns move.
The dashed lines in the diagram at right show pawn promotion zones.
Movement in European Chess proceeds clockwise. Any player can start.
Movement
Unless otherwise stated, all pieces move as they do in standard chess.
Some nations may modify their pieces' movement or introduce new pieces; this is always clearly stated in the nations' descriptions.
There is no castling or en passant.
Pawns can move ahead two squares only if they are on your second row. This rule only applies to regular pawns – special pawns (i.e. Mongol Empire) can only do this if it is explicitly stated in their description.
Pawns can promote to any piece that you start out with except a King. This includes any non-King royal pieces.
Checkmate and Losing the Game
There is no checkmate in the conventional sense. Instead, checkmate occurs when all of a player's royal pieces have been captured.
The last king owned by any player is always a royal piece unless otherwise stated. When another royal piece is introduced by a nation (e.g. British ministers), only the last of these pieces owned by a player is considered royal for the purposes of any power that applies to royal pieces.
Some nations do not start out with royal pieces, and do not become checkmated when they run out of royal pieces.
As soon as you are checkmated, you lose the game. All of your pieces now belong to the player who captured your last royal piece. However, your pawns still move and promote in the same direction as they did before.
If, at the start of your turn, you have only one piece on the board (generally, but not necessarily, a king), you lose the game unless otherwise stated. Your final piece is removed from the board.
If you resign, remove all of your pieces from the board.
Check
Generally, check does not have to be declared.
Especially if playing with beginning players, it may be a good idea to only allow checkmate if check has been declared the previous turn. This rule must be specified before the game begins.
You may not check a player on your first two turns. (new rule in version 1.0).
Communication
There are three different modes of communication allowed in a game, and the mode of communication must be agreed to before the beginning of the game:
Closed communication: No communication allowed.
Open communication: The default communication mode. Communication is allowed, but must be open (that is, every player must be able to hear everything said).
Secret communication: Communication is allowed, and you may secretly communicate with any player.
Special Powers
At the start of the game, select a nation from the nation database, either randomly or by your choice.
The nation's description contains your setup, as well as the special power(s) that you can use during the game.